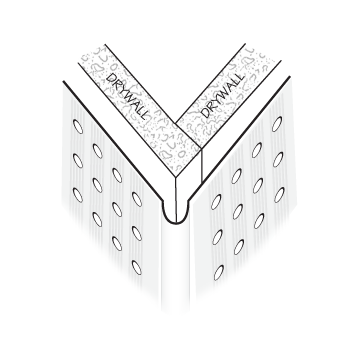 Plastic Cornerbead
Clinch-On uses ABS (Acrylonitrile Butadiene Styrene) to manufacture its highly pliable and impact (dent) resistant plastic cornerbead profiles. Clinch-On uses ABS rather than PVC (Polyvinyl Chloride) because a fire will cause PVC to form hydrochloric acid fumes, which are a serious and deadly hazard. ABS is environmentally safer and gives you better mud and paint adhesion, increased flexibility and durability, greater resiliency and improved flange crack resistance from stapling and nailing. Our intricate pattern of holes on the flanges of the cornerbead allows the joint compound to penetrate through the flanges to the drywall and gives you a superior joint compound adhesion.
ABS is a common recyclable thermoplastic with a melting point of approximately 221o F (105o C). The most important mechanical properties of ABS are that is will never rust and is impact resistant. ABS is resistant to aqueous acids, alkalis, concentrated hydrochloric and phosphoric acids, alcohols and animal, vegetable and mineral oils.
Limited Warranty
Clinch-On manufactures its cornerbead to meet a rigid set of specifications using top quality, corrosion-resistant, proprietary coated steel. Clinch-On warrants that its paper-faced tape-on cornerbead will not edge crack when applied to a sound structure built on a permanent foundation using Clinch-On recommended application techniques. Subject to use under normal conditions, Clinch-On paper-faced tape-on cornerbead is guaranteed for 30 years from the date of installation. Clinch-On shall not be responsible for any loss resulting from installation practices not in accordance with Clinch-On recommended application techniques; damage caused by contact with water during delivery or while stored at the job site; failure of the owner to maintain the building with reasonable care and abnormal conditions including abuse, neglect, catastrophe and intermittent or prolonged exposure to water. Clinch-On makes no warranties other than that which is explicitly stated herein.
Clinch-On Catalog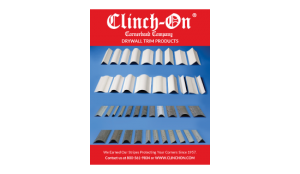 Our drywall trim products. Special length cuts available upon request with ten (10) day advanced notice.